Secondo volume dei Comics e Online-Shop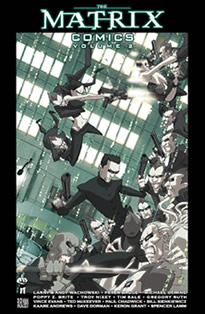 December 20th, 2004—————————-
THE MATRIX COMICS: VOLUME TWO has arrived!
See a preview of all twelve stories, here.
Buy it here.
Or get it at your local comic shop this Wednesday!
Also new to the online shop for U.S. and worldwide shipping, the first issues of both DOC FRANKENSTEIN and SHAOLIN COWBOY.
All items are in stock and shipping immediately!
Get them while they last!
TheMatrix.com
Questo è ciò che è stato annunciato dal sito ufficiale sotto forma di duplice notizia per noi fans.
Per quel che riguarda il negozio virtuale di Burlyman, vi si trovano, oltre ai due libri di fumetti della saga, anche i primi numeri di Shaolin Cowboy e DOC Frankenstein, come pure un sacco di gadgets. Purtroppo, molti di noi si saranno fatti sfuggire l'occasione di acquistare gli abbonamenti dei due fumetti di produzione Burlyman, cosa che si poteva fare solamente il fine settimana del 18-19 dicembre, ma sicuramente verrà riproposta più in là.
In compenso, ancora Jestas, ci segnala che con il codice-coupon "fivefromtwentyfivefromredeye" si possono avere 5$ di riduzione con una spesa superiore ai 25$ (almeno, così si intuisce).
Cosa dire ancora' Buona lettura a chi deciderà di acquistare il secondo volume dei leggendari Matrix Comics, buon online-shopping per chi acquisterà i prodotti Burlyman e buon Natale ( 😀 ) a chi farà entrambe le cose!
0 Comments
ON "

Secondo volume dei Comics e Online-Shop

"
All "Matrix" related material is property of Village Roadshow Film Ltd. and Warner Bros. - a Time Warner Entertainment company